Map of the Tree of Life Project Web Site
The Tree of Life web site offers a collection of web pages illustrating the branches and leaves of the Tree of Life that connects all organisms on Earth. In addition, we provide extensive documentation that assists visitors in using the site, as well as pages giving background information about the Tree of Life Project.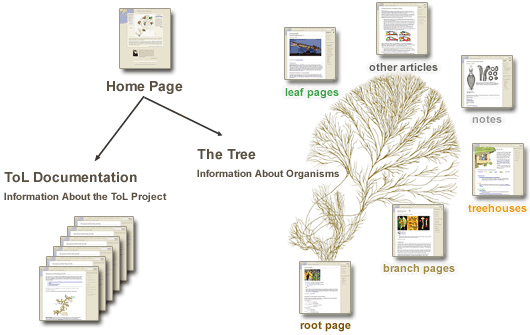 Tree of Life Content: Information About Organisms
The Tree of Life currently consists of more than 3000 pages with information about different groups of organisms. This part of the website is too extensive to present a full map here.
There are five basic categories of Tree of Life pages:
These categories are explained in more detail on the Structure of the Tree of Life page.
To get an overview of some of the major groups represented on the Tree of Life, have a look at our Popular Pages or Sample Pages. To find a particular branch or leaf of the tree, try the ToL Group Search.
Tree of Life Documentation
The Tree of Life documentation is divided into seven sections:
browse
help
features
learning
contribute
about
search